With this approach I have to estimate the level of knowledge of my readers to find the right structure. A text for a layperson looks very different from a text for professionals.
If I want to write a text of which I don't know the main statement yet, I can use the main question as a starting point. Which subquestions do I have to answer in order to answer the main question? As soon as I have found a subquestion, I can start working on this subquestion. If I have written the text for a subquestion, it usually results in the next subquestion that I have to answer.
A good starting point for finding subquestions is to look at the definitions of the terms that the text is intended to deal with. Defining something precisely is not easy and raises many questions.
When I have finished writing the text, I have found an answer to the main question, the main message. With this main statement I examine the structure of my text. Maybe I have to improve the structure so that the reader can better understand the main message.
A good text encourages the reader to think along. The reader should ask himself: "What will happen next?" A text may not be an enumeration, in which the enumeration points follow each other without recognizable connection. Such a text is boring.
3. Obstacle: The lack of appropriate formulations
In a language there is a word for every thing, for every phenomenon and for every process. If we relate the words to each other, we can make statements. A statement is the linguistic representation of a fact. To make statements we formulate sentences. (Seiffert, H. (1975). Introduction to Philosophy of Science 1, Munich: Publisher C. H. Beck, p. 53 and 60 ff.)
In other words:
If we want to say something meaningful, we have to bring the appropriate words into a meaning relationship. Such a sense relation is called a sentence. (Klein, H. W., Strohmeyer, F. (1967). Französische Sprachlehre, Stuttgart: Ernst Klett Verlag, p. 13).
In order to be able to formulate understandable sentences about a fact, I must ...
1. have understood the fact(see above)
2. have the appropriate vocabulary (Which technical terms are used for a particular issue, I see in texts that others have written on this issue.)

3. master the grammar and spelling

4. choose the right style for my statements
The right style, the right formulations, depends on the specific situation:
If I want to remind a friend of today's meeting, I have different ways of saying it: "Do not forget our meeting today." "Be punctual today!" "Please come on time today!" "If you do not come on time today, you're in trouble." … Which is the most appropriate phrase depends on the specific situation. (Everyone knows how embarrassing it is to use the wrong words.)

When we do something, it is not only important what we do, but also how we do it.

Definition: Style is the way we do something or how something was done.

Style is also important when writing a text:
"The difference between the almost right word and the right word is really a large matter: it's the difference between the lightning bug and the lightning."

(Mark Twain, Letter to George Bainton, published in "The Art of Authorship" by George Bainton)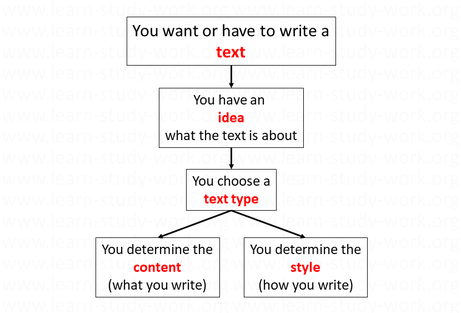 When I want to write a text, I first need an idea of the content, i.e. what I want to say with the text. Then I consider whether the planned text belongs to a text type.
In order to make it easier to read all texts that are supposed to perform the same task, text types have been formed for them and certain style rules have been defined. So, if I want to write a text that belongs to a certain text type (e.g. a business letter or a poem), I have to follow the requirements and style rules that apply to that text type so that my text has the characteristics of that text type.
Text types are "... linguistic patterns to deal with specific communicative tasks ..." (See Text Pattern Knowledge: https://web.archive.org/web/20081222153848/http://www-user.uni-bremen.de:80/~schoenke/tlgl/tlgl.html, 30.08.15). All texts of a text type have common characteristics which distinguish them from other texts.

The style rules for the text types are usually only rough rules, so there are still possibilities to write the text according to the personal style, through clear and simple formulations (but not too simple), a logical structure and no exaggerations.
"The approach to style is by way of plainness, simplicity, orderliness, sincerity." (William Strunk, jr. (1959). "The Elements of Style")

For example, if I want to write a bachelor's or master's thesis, I have to meet the requirements and follow the rules that apply to such work. So it is advisable to inform yourself about them.
4. Obstacle: Often there is no time for a thorough revision
"Writing is hard work. A clear sentence is no accident. Very few sentences come out right the first time, or even the third time. Remember this in moments of despair."
(Zinser, W. (2001). On Writing Well, New York: HarperCollins Publishers, p. 12)
To describe a simple fact is not hard work. "We'll meet at the station at 5 pm." Writing such a message is no problem.
The description of a complex issue is difficult. The human brain cannot consider all the influencing factors at once that are important in writing such a text.
When you read the final text, you need to see a "logical flow" and the style (the formulations and the layout) must match. Therefore a demanding text has to be revised several times. Time must be planned for this.
When I want to write a text on a difficult topic, I first have to think about the main question the text should answer or the main message the text should have. In doing so, I determine the goal of my text.
Next, I estimate how much time I will need to write a text with this goal. If there is not enough time available, I would have to reduce the goal. I divide the available time into three time periods:
Gather information to understand the topic and create a rough writing plan.
Write the text.
Revise the text and reserve for unforeseen problem.
Such a schedule is necessary so that I don't end up running out of time.
1. Gathering information and creating a rough writing plan influence each other. I read what others have written on the topic and thus have an idea of what my text might look like, i.e., what text parts it must contain (I create an outline). Then I look for the information for the text parts and may have to correct my idea of the structure of my text. Hopefully, when I have gathered enough information for each part of the text, my writing plan is clear enough that I can use it to write my text. In a pinch, I can also start writing when the plan is not quite ready and hope that further insight will come as I write (but no blind actionism = just start writing without a plan).

If you are writing your bachelor's or master's thesis, for example, you are supposed to develop new ideas under time pressure and are therefore uncertain. Uncertainty is often combated by excessive "information gathering ... or by blind (because hardly based on information) actionism." (Dörner, D. (2000). Die Logik des Mißlingens, Reinbek bei Hamburg: Rowohlt Verlag, p. 153).

2. While reading the literature I have always paid attention to the style other texts have used (technical words, formulations, outline, visualizations). This makes it easier for me to formulate my text.
3. With good planning, I have time at the end to revise my text thoroughly. I read it through several times and look for bumpy parts. I correct these. When the text is easy to understand and reads smoothly, it is ready.
Text writing is a skill/competence that can only be acquired through practice.